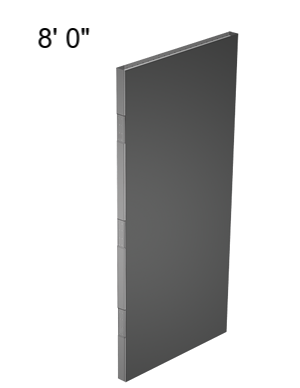 Hollow Metal Door - 8' 0"
18 Gauge Standard

Available in 14, 16, and 20 gauges.

Polystyrene Core Standard

Available in honeycomb, fiberboard, and urethane cores.

Cold Rolled Steel Standard

Available in A40 and A60 Galvannealed and G90 Galvanized Steel.

Grey Primer Standard

Available unprimed (galvanized and galvannealed), and factory prefinished in thousands of colors.

Flush Face Standard

Available with a variety of vision lite kits, louvers, and panel designs, including wood grain.

Exclusive Door Design Includes:

Mechanically interlocking pan and lid design.
7 gauge hinge reinforcements with an extra long, high frequency top hinge reinforcement standard.
Closer reinforcement standard.
Inverted top channel standard (available in flush top).
Up to 3 hour fire rating available.

Built to meet and exceed ADA, ANSI, ASTM, and SDI Standards.